more news
People of Point Park: Kevin Kauffman, '09 - Making movies in L.A.
Monday, October 19, 2015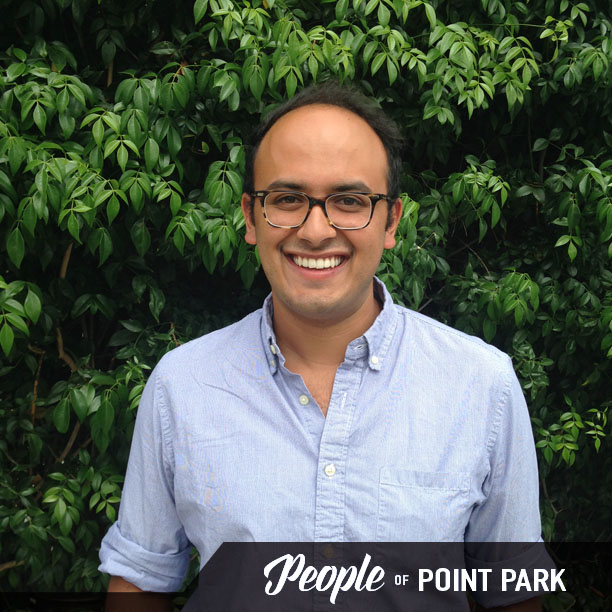 Degree Earned: B.A. in Cinema and Digital Arts
Class Year: 2009
Current Occupation: Producer
Employer: Experiment Media
Current Hometown: Culver City, CA
Clubs, hobbies, Interests while on campus: United Student Government and the John P. Harris Society
Eat, sleep, work
When not making movies, Kevin Kauffman, '09, is busy trying new foods, going to the beach and hanging with his fiancée, Cassie Shafer, '09. But he is rarely not making movies. "I really just eat, sleep and work. I spend my days working for a company called Experiment Media producing, editing, and directing - pretty much making movies or trying to make movies."

Kevin has worked on various projects, including "The Bridge to Nowhere" and "Todd vs. High School," and is currently working on the movie "Popular." He has also worked on music videos for rapper and Pittsburgh native Wiz Khalifa.
Who is your biggest influence?
"My grandfather had a big influence on me. I am not that similar to him at first glance, but I think I took more from him that I ever realized. He actually taught photography and was a really good photographer. I think a lot of my interest in that was from his influence."
'I thought I knew more than I really did'
When it comes to regrets, Kevin thinks about missed opportunities to learn more. "There was a period in my life where I thought I knew more than I really did. At that point, I sort of framed the way I looked at everything and in that process, I skipped over a lot of stuff that I could have learned. I didn't realize what I was doing until after the fact. I am now open to the fact that we are always learning and you can always get better at everything. I neglected how important that was before."
More About: cinema arts, United Student Government, Conservatory of Performing Arts