Mark Voortman makes programming focus of IT learning at Point Park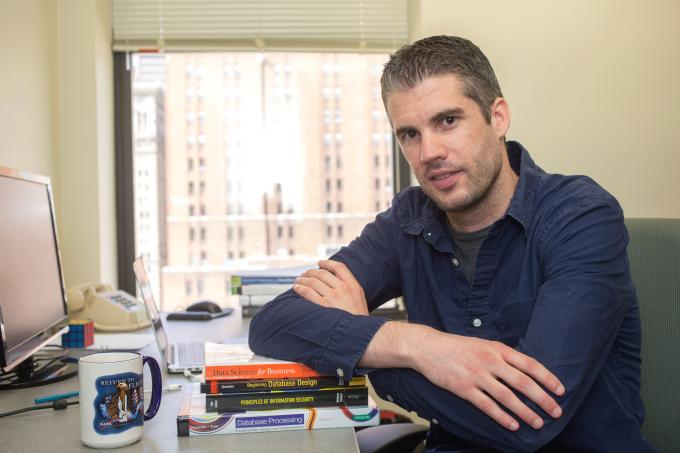 The Point
Fall 2015
When Mark Voortman, Ph.D., came to Point Park to help re-launch its IT program, he knew programming would play a key role.
"Programming allows you to turn ideas into something working, something practical. It can vary from writing a program that tracks your customers' purchases to controlling nuclear facilities," explained Voortman, visiting assistant professor of information technology.
According to Voortman, many well-known companies have been started by someone with programming experience, like Bill Gates at Microsoft or Mark Zuckerberg at Facebook. "Taking an idea, even if it's very simple at first, can be the beginning of something very big, and that's what programming allows you to do," he said.
Revamped IT Program
To ensure the revamped IT program will give Point Park students every advantage possible, he sought out grants to help pay for needed equipment. "Every website that you access on the Internet runs on a server, so it's very important that students learn about client-server architectures and how to deploy their own websites (or apps) on a server. It's really important each student has his or her own online space to create and explore," Voortman explained.
Related links
In addition to getting hands-on experience using servers, Voortman wanted to help students move programming into a practical, classroom experience and so the idea for creating an app was born. In speaking to students about what kind of app would help them make the most out of their campus experience, "We found many don't really check their email so push notifications may be a better way to communicate," he explained. Students hope the app will also make it easier for staff, faculty and clubs or sports teams to share event announcements and keep track of who will be attending. During the fall semester, students will work on developing and fine-tuning the as yet unnamed app as part of classroom lessons and projects.
Enriching Campus Life
Ultimately, IT students hope the app will make campus life richer for everyone.
Besides programming, the re-launched information technology major will help students build a knowledge base of big data and business entrepreneurship, all valuable skills for the rapidly changing fields of IT and software development.
According to the Bureau of Labor Statistics, many computer programmers work in computer system design and related services, an industry that is expected to grow as a result of an increasing demand for new computer software and services. In addition, new applications will have to be developed for mobile technology and the health care industry.
A self-described "high-tech junkie," Voortman grew up in De Kwakel, a small town 15 miles outside of Amsterdam. When he came to the U.S. in 2004 to write his thesis, his advisor at the time from the University of Pittsburgh asked him to stay to pursue a Ph.D. Since settling in Pittsburgh, Voortman is impressed by the transformation the city has made from primarily manufacturing to becoming a "high-tech hub with companies like Google and Apple, and being home to an active startup scene supported by companies like AlphaLab." Voortman has taken full advantage of Pittsburgh's river front trails and parks, and as an avid runner, completed his fifth consecutive Pittsburgh marathon last May.
Like any good teacher, Voortman said, "I would like to make a difference in a student's life." By developing a new IT program and investing in technology, he plans to immerse students in an environment where they will be well-prepared to pursue a meaningful career. "In the IT field, the more technical you are, the more valuable you are to a company. Programming is such a powerful tool."
Text by Barbara Vilanova
Photo by John Altdorfer
The Point is a magazine for alumni and friends of Point Park University