Okay, Let's Dance!
Virtual Pre-Professional dance classes for 
Fall 2020
 are still open.
REGISTER HERE
Virtual Pre-Professional Dance
Focus on improving your technique and skills while preparing for future auditions.

Dance, even if you have nowhere to do it but in your own living room! Thanks for your determination and joining us virtually this semester.

Online Pre-Professional dance classes start the week of September 14 and run weekly, Tuesday-Thursday, until the week before Thanksgiving break (November). Although classes have started, we are still accepting registrations. Each ticket (for a specific date, time and dance style) is now available for the remaining 9 weekly classes throughout the fall semester.
Available Dance Styles:
If you would like to participate in the program but are unable to register for a full semester, please contact the Office of Community and Summer Education to discuss other options.
This program is open to any gifted student who is at an intermediate+ level of dance who is of current high school or undergraduate status. Although no audition is required, students must be at a certain level to participate. If the instructor feels that a student is not at an intermediate level, they will be asked to try another class. If another class is not available, they shall be issued a refund.

* Please understand that we value your safety and this process is necessary to prevent injury. 
* Attendance will be taken by the instructor at the beginning of every class.

Particpants will need access to an internet connection and a laptop or smartphone with audio and video. All sessions will be delivered via Zoom, an online and mobile meeting solution. We recommend that you download the platform prior to the start of the program to become more familiar. To download this free software, please visit HERE.
* Zoom details will be emailed after registration and payment is received. 

Students can register for ballet, barre, jazz, modern, and pointe classes. All classes will be capped at 20 students. 

BALLET DESCRIPTION:
Ballet technique involves and challenges the entire body.  Its intricacies and harmonies stimulate the mind as well as the muscles. This intermediate ballet class is designed to build technical strength, stamina, flexibility, and the control necessary to execute movements at this level. Center floor work will follow barre. Although adapted for limited space, the class can be done in any size room or studio. Live piano accompaniment is provided!


BALLET FLOOR BARRE DESCRIPTION:
In this class, the traditional ballet barre will be taken from a standing position to the floor. This class aims to increase flexibility/strength, emphasize correct posture, and focus on the basic movements of ballet to prepare students for traditional barre and center work. As this class is conducted either seated or lying down, it is suitable for anyone looking for a way to maintain strength and technique while reducing stress on joints or anyone who is working with limited space.



JAZZ DESCRIPTION: 

During the pre-professional semester, students will be exposed to various styles of Jazz. Such areas may include: contemporary / lyrical work, musical theater, commercial, and LA style jazz / hiphop. Students will also practice audition and branding awareness including mock auditions in various stlyes, reviewing headshots / resumes and discussing personal branding plus marketing tips. An emphahsis will always be given to classroom and rehearsal etiquette.
MODERN DESCRIPTION:
Coming Soon!
Fall 2020 Pre-Professional Dance Schedule

TUESDAYS

(09/15 - 11/17)

WEDNESDAYS

(09/16 - 11/18)

THURSDAYS

(09/17 - 11/19)

Modern
Michaela Kuehni
4:00p - 5:00p EST

Jazz
Shannon Riley
6:00p - 7:00p EST

Ballet
Catherine Groetzinger
4:30p - 5:45p EST

 

Ballet Floor Barre
Ana Eberts
7:30p - 8:30p EST


 
Tuition for the Pre-Professional Dance program is $300  $175.00* per registered class (or $25  $17.50 per class).
*Tuition for the remaining 9 class is now pro-rated to $157.50.

For example, if a student registers for 3 classes per week, the total tuition would be $525 for the entire semester. Tuition is due by the first day of class to secure your spot. Registration is online via Eventbrite. Payments must be made with a debit or credit card.

Unfortuantely, no drop in classes are available this semester.


Discounts - In order to receive a discount, payment must be made at the time of registration. 
$50 semester discount - This $50 (now pro-rated to $45) discount is only available for Point Park affiliated students and children of alumni/employees. All tickets will be verified. Point Park Students (must enter an ID # when registering). 
This discount is valid towards full semester registration lowering the semester fee to $125.00 per semester or $12.50 per class. * Please enter POINTPARK20 in the promo code section of Eventbrite.
* After you click "Register" you will be able to enter the promo code on the same page where you'll select your ticket(s). You'll notice "Enter promo code" in the upper left hand corner in blue. Reference below:
No other discounts are offered at this time.

Refunds - Refunds are not available unless you have a medical excuse. If so, the refund will be prorated based on the number of classes already taken. Additionally, students who encounter unforeseen extenuating circumstances may petition for an exception and should reach out to Heidi Ward, Director of Community & Summer Education at hward@pointpark.edu.
Unfortuantely, due to our new virtual environment, no make-up passes will be available this semester. Please be sure to review your calendar prior to purchasing a ticket to ensure you can attend most classes during the semester.
Ballet:
Catherine Groetzinger

Jazz:
Modern:
Currently scholarships

are not

available for the program. 

Please note that participating in the Pre-Professional Dance Program at Point Park University will NOT guarantee your acceptance into the Conservatory of Performing Arts dance program. The audition for the Conservatory of Dance is much more stringent and demanding. These classes will help you prepare for that audition, but will NOT guarantee your acceptance. For more information about dance auditions, please visit

here

. 

College credit is NOT available and financial aid cannot be used towards tuition costs. 

Schedule and teachers listed are subject to change. 

Questions or concerns? Please call 412-392-3456.
Terms of Use for Online, Non-Credit Classes:

By registering for a class, you agree to Point Park University's Terms of Use Agreement, Privacy Policy, Cookie Policy, and Acceptable Use Policy. You also agree to abide by Point Park University's Code of Student Conduct and Non-Discrimination, Equal Opportunity, and Diversity Initiatives.
The Terms of Use Agreement, Privacy Policy, Cookie Policy, and Non-Discrimination, Equal Opportunity, and Diversity Initiatives can be found
here
.
The Acceptable Use Policy can be found
here
. 
The University Code of Student Conduct can be found in the
Student Handbook
.
Upon registration, I consent to Point Park University's use of my name, image, likeness, voice, biographical information, or other identifying aspects of my work pursuant to the photo release contained within Point Park University's Student Handbook. The Student handbook can be found
here
.
---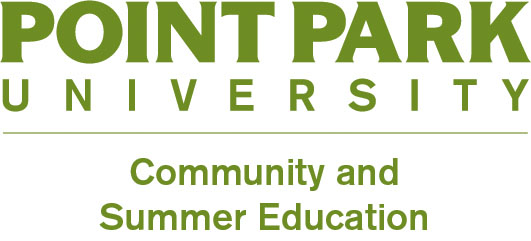 Contact Information:
Phone
: 412-392-3456
Email
: 
community@pointpark.edu 
(Include "Pre-Professional" in the subject line of emails)