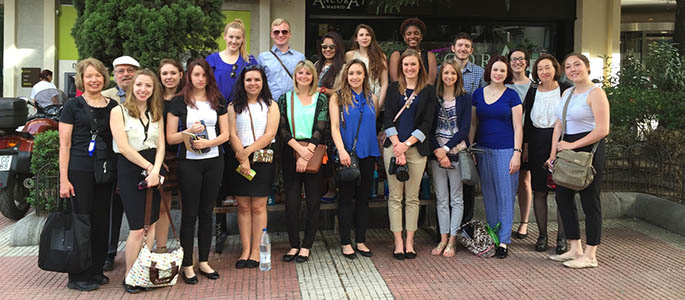 School of Communication students and faculty explored media and culture in Spain and Portugal in May 2015. 
Travel Fund Supports Student Travel
The John Fallon Travel Fund helps School of Communication and Honors Program students in need travel nationally and abroad to complement their Point Park education. This year's fund awarded $11,000 to help defray the cost of travel to Spain and Portugal. Past trips include London and Paris, Germany, Italy, Ireland, Prague, Toronto and London.
The travel fund was established in 2008 by Helen Fallon, professor of journalism and director of the Honors Program, and her children, Amy and Stephen, in memory of their late husband and father, John E. Fallon Jr.
Learn more about the students' experiences in Spain and Portugal by visiting the student-created website: http://spain.pointparkjournalism.com.
Online Giving
Your gift supports the John Fallon Travel Fund. Thank you for your support and commitment to Point Park.
What students and alumni are saying about the John Fallon Travel Fund
Check out what students and alumni have to say about their travel experience.