B.F.A. PROGRAM GUIDES: FRESHMEN; TRANSFER | COURSE DESCRIPTIONS | FACULTY | SCHEDULE OF COURSES
Explore Technical Theatre and Set Design at Point Park
In this program, you will gain a solid foundation in all of the major technical and design areas — lighting, costume and set design, and technical direction — so you'll be prepared to work in theatre or enter graduate school and gain further design credentials.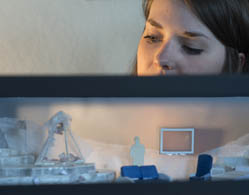 Setting the Stage: Go Behind the Scenes at the Playhouse.
Related links
During your first two years, you will take beginning-level courses in all major subjects, plus advanced classes in at least two of these areas your third year. During your senior year, you can take additional advanced design seminars in your major area of focus, as well as advanced coursework in technical construction and management. You may be offered the opportunity to be a designer or technical director for one of four companies under the supervision of professional designers/technicians.
Degree in Theatre Arts
Point Park offers a B.F.A. in theatre arts with a concentration in technical theatre/design. Learn more about the degree requirements of the B.F.A. program.
Courses in Technical Theatre and Set Design
You will receive a well-rounded education through the core curriculum and classes in your major. Some courses in the technical theatre and set design concentration include:
Advanced Scenery Construction
CAD/CAM for the Theatre
Carpentry for Theatre
Computer Applications for Designers
Costume Construction
Costume Design
Lighting
Production Management
Scene Design
Technical Direction
For a comprehensive list of program requirements and course descriptions, see the B.F.A. program guides at the top of the page and the Conservatory of Performing Arts course descriptions.
Careers in Technical Theatre and Set Design
With a B.F.A. degree in technical theatre/design, you will have the option to pursue various career opportunities, such as:
Carpenter/prop artist
Costume design
Electrician
Hair/make-up
Lighting design
Set design/construction
Alumni
Our alumni are currently working at various theatres across the country, as well as cruise lines and entertainment companies.