PROGRAM GUIDES | COURSE DESCRIPTIONS | FACULTY | SCHEDULE OF COURSES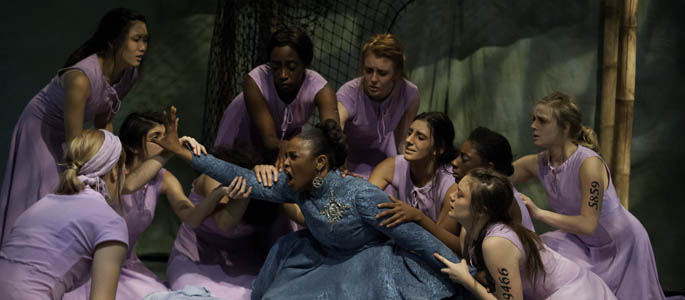 Conservatory of Performing Arts students perform a scene from Hecuba at the Pittsburgh Playhouse.

Concentration in Acting

 Students and faculty discuss the acting program.
In this rigorous program, you can take up to eight terms of acting classes taught by working professional artists and will become familiar with various acting techniques. Our curriculum is steeped in movement, voice and speech techniques, and professional preparation.
You will audition for the Conservatory Theatre Company, which presents a five-show season of musicals and dramas directed by faculty and guest artists, and Playhouse Jr., our theatre company for young audiences. You will have opportunities to participate in the student-directed One Act Play Festivals, and may be invited to audition for The REP, Point Park University's professional Equity theatre company in residency.
During your training at Point Park's Conservatory, you will develop a complete understanding of all the elements involved with professional performance and production, and have access to the thriving, dynamic cultural community in Downtown Pittsburgh.
Degree in Theatre Arts
Point Park offers a B.A. and B.F.A. in theatre arts with a concentration in acting. Learn more about the degree requirements and difference between the B.A. and B.F.A. programs.
Acting Degree Courses
You will receive a well-rounded education by combining the core curriculum and courses in your major. Courses in the acting concentration may include:
Foundations of Modern Drama
Acting: Stanislavski, Meisner, Michael Chekhov
Elements of Stagecraft
Movement: Suziki, Commedia, Clown, Mask
Acting for the Camera
Singing for Actors
Alexander and Yoga for the Performer
Fundamentals of Directing
Audition Techniques
Unarmed and Armed Combat
Playwriting
Theatre Professional Seminar
A Career in Acting
You can find our alumni performing on Broadway, with national tours, in regional theatre, on web series, on television shows and in movies. Join the conversation on Facebook with Point Park theatre alumni.
Learn More