Scholarships
Based on the quality of the applicant's portfolio submission and interview, the cinema department awards a limited number of scholarships each year. Full-time faculty members grant some of these awards to prospective students after their interview. The department chair, in consultation with the departmental faculty, determines others. The criteria for scholarship awards are as follows:
Students must: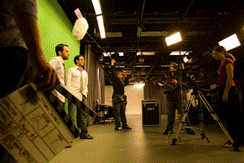 Be a full-time major in the Conservatory of Performing Arts. 
Maintain a grade point average of 3.0 each academic semester.
Maintain satisfactory progress toward a degree.
Receive a minimum of "C" or better grade in any departmental class.
Receive the recommendation of faculty for renewal each academic year.
Apprenticeships
Cinema apprenticeships are job-related awards given to students who demonstrate extraordinary talent. Students receiving cinema department apprenticeships will be assigned a work site in one of several departments throughout the University and be expected to work a set number of hours per week in exchange for a monthly stipend. Apprenticeship hours will be assigned around a student's academic schedule and may include weekends; however, hours cannot exceed 11 per week. Apprenticeship awards are included in the overall financial aid calculation and are taxable income. Apprenticeships for freshmen are assessed and awarded during the interview process.
Federal Workstudy
Workstudy is available to students but is managed through the Financial Aid Office. Students interested in a workstudy position should contact the Financial Aid Office.