If you have questions about upcoming activities, or would like to help plan an upcoming event, contact the Office of Alumni Relations at alumni@pointpark.edu or 412-392-4750.
UPCOMING EVENTS
Alumni Photography Exhibit
Friday, April 3
5:30 - 8:30 p.m.
Lobby, Lawrence Hall
Point Park University
Join fellow alumni and members of the Point Park community for the opening of an alumni photography exhibit curated by Chris Rolinson, associate professor of photography and photojournalism.  Alumni participating include Kevin Moran '09, Holly Tonini '13, and Sarah VanTassel '11.
RSVP by Thursday, April 2.
Harrisburg Alumni Reception with Prof. Helen Fallon
Wednesday, April 8, 2015
5:30 - 7:30 p.m.
McGrath's Pub
202 Locust Street

Join Helen Fallon, professor of journalism and director of the Honors Program and fellow Point Park alumni for a casual reception, conversation and networking.  Learn more about what's happening on campus, benefits for alumni and how you can get involved.
RSVP by Sunday, April 5.
Reception for Alumni & Graduating Seniors
Tuesday, April 14
5:00 - 7:00 p.m.
Hundred Wood
100 Wood Street
Join fellow alumni from across Pittsburgh and welcome the class of 2015 to the alumni community at a casual networking reception at Point Park's new pub, Hundred Wood.  Learn more about what's happening on campus and enjoy complimentary appetizers and a drink on Point Park
RSVP by Sunday, April 12.
Updated March 19, 2015: Regretfully, the Boomer Reunion has been canceled.
If you are interested in visiting campus and seeing the many changes at Point Park, please contact Rick Haskins at rhaskins@pointpark.edu or 412-392-8097.
SAVE THE DATE!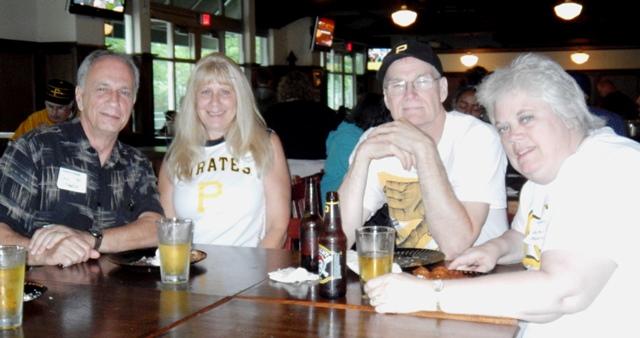 April (Webinar): Making the most of LinkedIn
May 9 (Pittsburgh): Baseball Outing - Pirates vs. Cardinals
May 18 (Los Angeles): Want to volunteer for the LA Regional Alumni Group to help organize and plan events? Join us for a working dinner to discuss the next year's plans.
More information coming soon.
Questions? Contact the Office of Alumni Relations at 412-392-4750.
To see more photos, check out the Point Park University Alumni Facebook page!
Stay tuned for more news about upcoming events and opportunities for alumni.