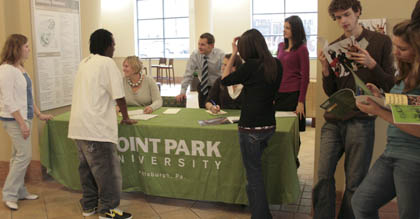 Explore Point Park
To learn more about our academic programs, faculty, urban campus, student life and more, please join us for any of the Admissions events listed below. We look forward to talking with you!
For prospective full-time undergraduate students
Nov. 1, 2014
Feb. 7, 2015
ONLINE CHATS:
Learn more and explore our full range of chat dates.
Saturday, March 21, 2015 - RSVP available in January.
Saturday, April 18, 2015 -RSVP available in January.
For prospective graduate, part-time and adult students
OPEN HOUSE PROGRAMS: