PROGRAM GUIDES: FRESHMEN; TRANSFER | COURSE DESCRIPTIONS | FACULTY | SCHEDULE OF COURSES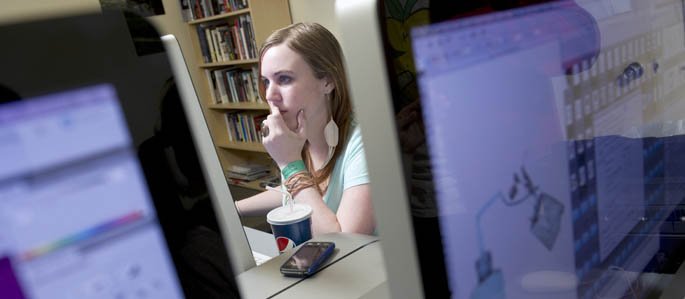 Earn a B.A. in Mass Communication in Downtown Pittsburgh
If you're interested in a broader mass media education, this bachelor's degree program is for you.
Alumni Profile
Meet mass communication alumna Stacey Kammerdiener.
---
Take Action
You will complete the media basics, and then sample from the most enticing courses and experiences throughout the School of Communication. You might complete video production and web design projects, take copywriting and social media marketing courses and study journalism subjects, such as feature writing and investigative reporting.
There is immense flexibility of depth and breadth of study.
Mass communication majors also participate in our "value-added" programs via internships, Point Park News Service, U-View television programming, and many more media-related clubs and organizations.
This versatile major is especially accessible for students transferring to Point Park with significant college work already under their belts and for students who plan to take part in extensive international study and travel.
 Careers in Mass Communication
Reporting
Media entrepreneur
Media management
Graduate study
Law school
Educational media
Media marketing
Diplomacy
Public information
Mass Communication Courses
Learn more about the mass communication courses offered at Point Park University by visiting the School of Communication course descriptions page.