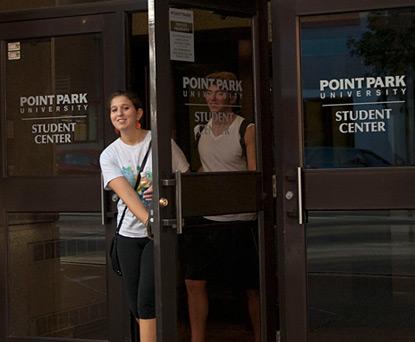 Welcome to the Student Center!
The Student Center is committed to providing the finest programs, services and equipment in order to enrich the University's recreational sports activities for students, staff and alumni. The center offers a variety of facilities and spaces that include:
recreational and lounge spaces with billiard and ping-pong tables
fitness area with elliptical machines, treadmills, indoor track and weight lifting equipment
meeting and conference rooms
The Student Center also offers an array of programming in yoga, spinning, zumba and more. 
The Student Center is open free of charge to all Point Park University students. Faculty, staff and alumni must purchase a membership. 
HOURS OF OPERATION
Monday-Thursday:   7 a.m.-11 p.m.
Friday:  7 a.m.-9 p.m.
Saturday:  9 a.m.-7 p.m.
Sunday:  Noon-11 p.m.
THANKSGIVING BREAK HOURS
Sunday, Nov. 23:  Closed
Monday, Nov. 24:  7a.m.-5p.m.
Tuesday, Nov. 25:  7a.m.-5p.m.
Wednesday, Nov. 26:  7a.m.-5p.m.
Thursday, Nov. 27:  Closed
Friday, Nov. 28:  Closed
Saturday, Nov. 29:  Closed
Sunday, Nov. 30:  Noon-11p.m.
Point Park ID is required for entry.
STUDENT CENTER CONTACT INFORMATION
330 Boulevard of the Allies (former YMCA building)
View the campus map
4th Floor Desk Attendant: 412-392-3853
Director: 412-392-3854
Administrative Assistant:  412-392-3823

Photo by Gabrielle Mazza, photojournalism major