PROGRAM GUIDES | COURSE DESCRIPTIONS | FACULTY | SCHEDULE OF COURSES | FULLY ONLINE OPTION

Take Action
---
Student Profile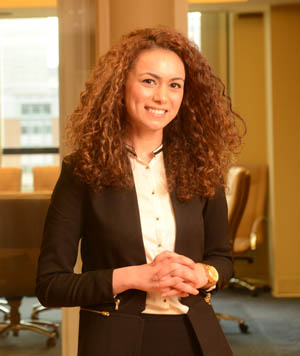 International accounting major Nabat Mammedova landed an internship with C.P.A. firm Maher Duessel.

Pursue an Accounting Career Fully Online or in Downtown Pittsburgh
With the recent focus on corporate accountability, there is no more relevant field than accounting. Accounting is consistently identified as one of the fastest growing professions according to the U.S. Bureau of Labor.

As an accounting major at Point Park, you'll do the course work required to pass the Certified Public Accountant examination. Plus, you'll be ready for a variety of careers in the field.
Upon graduation, you'll have the skills and knowledge to begin a career as a tax preparer, a financial analyst, a corporate or public accountant, an Internal Revenue Service special agent or a forensic accountant for the FBI, among others.

You can also consider our dual B.S./M.B.A. program, which allows you to earn an M.B.A. while fulfilling the new Pennsylvania C.P.A. requirement.
Degrees Offered in the Accounting Major
The following degrees, as well as a minor, are offered in the accounting program:
Our Accounting Alumni
Graduates of Point Park's accounting major have gone on to work at:
Bank of New York Mellon
Schneider Downs
Fannie Mae
University of Pittsburgh Cancer Institute
PricewaterhouseCoopers, LLP
UPMC
Earn an M.B.A. Degree and Fulfill Your C.P.A. Requirements
Graduates of Point Park's bachelor's degree in accounting program get an added bonus of six credits toward an M.B.A. degree from Point Park. Take advantage of this credit waiver while fulfilling the following Pennsylvania C.P.A. requirement:
NOTE: Effective January 1, 2012, individuals pursuing a C.P.A. license in Pa. are now required to have a baccalaureate or higher degree with a completion of 150 credit hours, including at least a total of 36 semester credits of accounting and auditing, business law, finance and tax subjects. Point Park's accounting B.S./M.B.A. program not only fulfills this requirement but provides individuals with a master's degree in as little as one year after earning a bachelor's degree in accounting.

Accounting Major Course Offerings
You will receive a well-rounded education through Point Park's core curriculum and classes in your major. Some of the courses in the accounting program include:
Managerial/Cost Accounting
Computer Applications in Accounting
Tax Accounting
Cost Accounting Principles
Auditing
For a comprehensive list of program requirements, see the course descriptions and the links to the program guides at the top of the page.

Also, consider taking the Cash Course to learn how to make informed financial decisions throughout your college and professional life.
Accounting Internships in Pittsburgh:
Arthritis Foundation
Federal Bureau of Investigation (FBI)
BDS/Canon Computer Systems
De Julius & Company Certified Public Accountants
Deloitte & Touche LLP
Maher Duessel
Ernst & Young LLP
PaineWebber, Inc.
PNC Bank, N.A.
PPG Industries
Schneider Downs
Scott & McCune Company
Accounting Careers
With a degree in accounting, you will have the option to pursue various career opportunities, such as:
Forensic Accounting
Public Accounting
Corporate Accounting
Not-for-Profit Organizations
Education 
Government