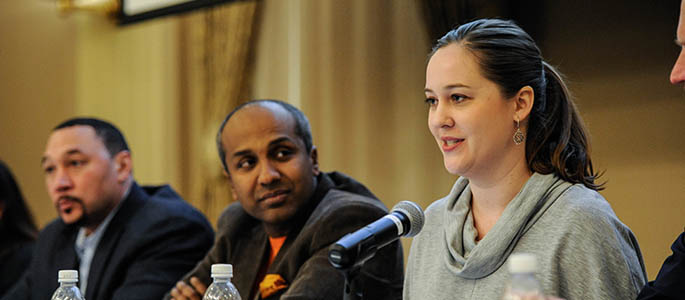 Charlie Batch, Sree Sreenivasan and Jessica Warchall discuss social media strategy at Point Park. More: Sree Sreenivasan joins Pittsburgh social media leaders to discuss future of digital innovation.

The Point Park News Service, operated in partnership with Trib Total Media, makes it possible for students to publish their work in professional media outlets starting from their first day of class.
PPNS operates as a wire service, drawing content from across the journalism curriculum. Stories are offered first to the Pittsburgh Tribune-Review for publication in one of its outlets. The Trib pays a stringer fee for every published article, and stories appear under the student's byline. Stories not published by Trib Total Media are available to other media outlets, and our students' work has appeared in the Pittsburgh Tribune-Review, Whirl magazine, Pop City, Pittsburgh City Paper and newspapers around the country.
Student-written stories recently published in the Pittsburgh Tribune-Review via the Point Park News Service include:
Student-written stories published in other media outlets include:
In June 2014, Point Park News Service journalists won three of the four student entry category awards in the Pennsylvania Women's Press Association's Excellence in Journalism contest.
Visit the Point Park News Service website to learn more.
Contact the Point Park News Service:
Andrew Conte, Investigative Reporter, Pittsburgh Tribune-Review
Director, Point Park News Service
aconte@pointpark.edu
(412) 320-7835