PROGRAM GUIDE | COURSE DESCRIPTIONS | FACULTY | SCHEDULE OF COURSES
Environmental studies students present their research at a graduate seminar on campus.
Alumni Profile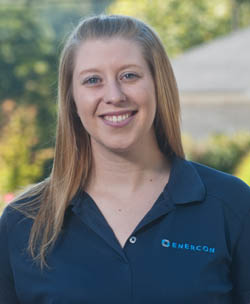 Earning a master's degree in environmental studies put Michelle Wunderley a step ahead in her career.
---
Take Action
---
Earn a Master's Degree in Environmental Studies at Pittsburgh's Only Downtown University
The Master of Science in environmental studies is a 30-credit interdisciplinary degree program intended to provide students with an understanding of the complex nature of environmental problems and their solutions. Offered in an accelerated format, the M.S. degree can be completed in as little as 11 months. The program prepares graduates to function as environmental professionals in industry, regulatory agencies and non-profit organizations.

Upon successful completion of the environmental studies program, you will: 
Understand the complex nature of environmental problems and their solutions;
Be knowledgeable regarding economic impact in natural resource development and sustainability, energy needs and pollution control;
Understand the roles of local and federal governments and global institutions in solving environmental problems; and
Appreciate how the environment affects human health, and major environmental health problems related to air and water quality, waste water and soil and hazardous waste management.
Environmental Studies Courses
Some of the courses in the environmental studies graduate program include:
Economics and the Environment
Politics and the Environment
Exploring the Environment and Health Connection
Environmental Communication
For a comprehensive list of program requirements and course descriptions, see the program guide and course descriptions.
Environmental Studies Jobs
With a master's degree in environmental studies, you will have the option to pursue various careers in areas such as:
Municipal Government Agencies
Nonprofit Environmental Advocacy Organizations
Regional Planning
Environmental Consulting Firms
Environmental Law
Graduate Students Present Environmental Research