PROGRAM GUIDES: BACHELOR OF SCIENCE | ACCELERATED BACHELOR OF SCIENCE | POST-BACCALAUREATE | MINOR | COURSE DESCRIPTIONS | FACULTY | SCHEDULE OF COURSES

Attention Prospective Students: Point Park University is accepting new students into the information technology program for the Spring 2014 semester that begins in January. After that, the University will revamp the program and does not expect to resume admitting new students until Fall 2015. We invite prospective students planning to enter Point Park for Fall 2014, Spring 2015 or Summer 2015 to explore the University's wide range of majors, including undergraduate programs in the School of Business.


Meet Harry Caskey, a 2011 alum and senior system engineer.

Pursue a Bachelor of Science in Information Technology at Pittsburgh's Only Downtown University
Information technology is consistently ranked as a growing and well-paid career field that is in demand. A recent article by CNN ranked IT among the top 10 "Best Jobs in America" based on pay, growth and available jobs.
Point Park's information technology degree program provides students with a broad overview of the field while incorporating specialized courses to prepare you for an industry that changes every second. 

Extensive lab assignments give you an edge by letting you apply the skills you've learned. Internship opportunities allow you to give a real business environment a test run. You can even perfect your talents by working as a Point Park computer lab assistant. We also have a dedicated IT security lab for students.
IT Degrees Offered
The following bachelor's degrees, as well as a minor, are offered in the information technology degree program:
Student Profile
IT student Justin Smith is selected for internship at Pittsburgh Post-Gazette.
Bachelor of Science in information technology — Traditional, four-year degree


Bachelor of Science in information technology and management — Accelerated, Saturday-only class format, open to candidates with an associate's degree or 60 pre-approved credits


Choice of concentrations:

Management: This concentration focuses less on the technical side of information technology and more on preparing students to be IT project managers.
Information Assurance (IT security): This concentration provides a solid background in general security management, continuity planning, server/network security, and other related areas.  Several courses in this concentration are tied to helping students pass the CompTIA SECURITY+ certification exam.

Post-baccalaureate — Add a Bachelor of Science degree to your current bachelor's degree.
Minor in IT — This is available to current Point Park students.
Alumni Profiles
Meet Denice Withrow, D.Sc.,
vice president of business technology integration at Bank of America.
---
Take Action
---
Learn how Point Park's IT program helped
Cindy Barnett advance in her career path.
---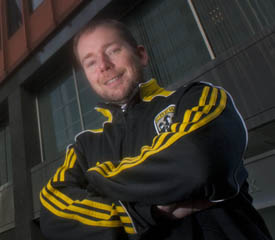 2008 alum Carl Skiles is a senior IT security analyst for K&L Gates.
IT Degree Course Offerings
You will receive a well-rounded education through Point Park's core curriculum and classes in the information technology degree program. The following courses are presented in both theory and application:
Web Design and Development
Object-Oriented Systems Analysis and Design
User Interface Design
Object-Oriented Programming
IT for Managers
Network Design
Database Systems
IT Security Issues
IT Project Management
For a comprehensive list of program requirements and course descriptions, see the links at the top of the page to the program guides and view the School of Business course descriptions.
Internship Opportunities in Information Technology
During their time in the IT program, students have the opportunity to intern at various organizations such as:
Pittsburgh Post-Gazette
Ninja Electronics
EDMC
Concurrent Technologies Corporation
Heinz
CSG Interactive
Mt. Washington Community Development Corporation
The Crons Brand
Lupus Foundation of Pennsylvania
IT Careers
With a degree in information technology, you will have the option to pursue various career opportunities, such as:
Computer systems analyst
Database administrator
Network administrator
Application developer
Interface design expert
Computer software engineer
IT security manager
IT project manager
Systems programmer
Web page designer
IT consultant
Website administrator
Our Alumni
Graduates of Point Park's Bachelor of Science in information technology program have gone on to work at:
Izea iPhone Applications
Department of Veterans Affairs
U.S. Forest Service
Innovations Tech
K & L Gates
Amerinet
Westinghouse
EDMC
Bank of America
AAA & W Corporation